A Food Tour of New York
After my too-brief weekend in NYC, I have compiled a list of a few of my favorite city eats. Despite common belief, New York ought not be experienced solely inside the Michelin rated restaurants of Wolfgang Puck and Mario Batali. No, the real New York lives in the holes in the wall, where the floors crumble under their age, and the aromas of authentic cuisines from around the world mingle in the street.
Go to these places, and you will have experienced New York at its best.
Soup Dumplings at Shanghai Cafe
Dumplings with soup inside. Delectable dim sum and delicious tea. In the heart of my favorite NYC neighborhood. Chinatown is a world of wonder.
Pierogis and Borscht at B & H Dairy
A hole of all holes in the wall, this place makes the best pierogis in Manhattan. Greenpoint, well, that's a different matter. This place has been around forever, and I hope it remains forever. I don't know why it has 'dairy' in the name. Maybe because they serve sour cream with everything.
Cafe con Leche and Chicken Soup at El Castillo De Jagua
This chicken soup embodies comfort food. Hearty, salty, thick. The cafe con leche is perfect, a better day in a cup.
Halva and Turkish Delight from Economy Candy
Directly across the street from El Castillo de Jagua. It's an overwhelmingly well-stocked candy store, like the kind you envision from the 1940's. In fact, this place has been in business since 1937, and it's like stepping into a sweet, sweet time warp. I like to order freshly cut halvah and turkish delight by the pound.
Pelmeni at Uncle Vanya Cafe
Can you tell that I like dumplings? Chinese dumplings, Polish dumplings, Russian dumplings, I love them all. I also love Russia, and being at Uncle Vanya Cafe feels like being in Russia. It's authentic; it's yummy.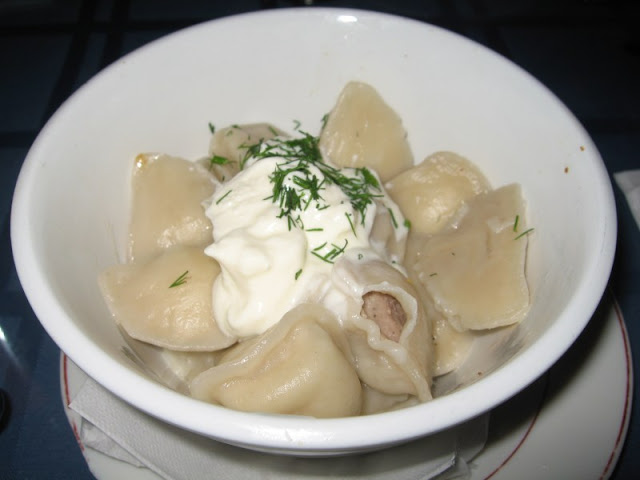 An Egg and Cheese Sandwich at any Deli



No one in California knows how to make a decent egg and cheese sandwich, and those who try, charge way too much and are skimpy with the cheese. In NYC, an egg and cheese on a roll with salt and pepper costs between $2.50 and $3.50, and is huge and oozes with American cheese. The more hole-in-the-wall the deli, the better the sandwich. It's a thing about NY that I miss very much.
These are all things that I miss about New York. Inexpensive foods from around the world, available in such quantities that you can grab a bite of heaven-on-earth as you go about your every day.
---
---