The Millennium Hollywood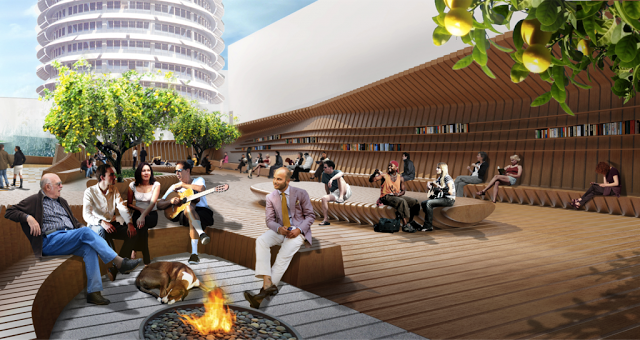 There are stretches of parking lot in Hollywood.
(If you know Hollywood at all, you just rolled your eyes as you read that. Duh, a lot of Hollywood is parking lot.)
The stretches of which I speak surround the Capitol Records building.
Imagine turning these bleak parking lots (are there any other kind) into development. A landscape upon which life can happen. Shopping! Dining! Or, my personal favorite (and the least mentioned): a park!
A proposal is currently circulating City Hall to develop these lots into a mixed-use project comprising apartments, shopping, dining, and public areas. It sounds wonderful, in theory, but when further details, including architecture renders, emerged, a loud voice of dissent arose from the community, mine among them.
The renders show two 50-story towers stretching to the clouds, dwarfing all the other buildings at Hollywood and Vine – indeed every building in Downtown Hollywood. The towers look unfinished, with the balconies carved into columns on either side resembling the crossbars of construction scaffolding. According to plans, the towers could be as tall as 485 and 585 feet — more than twice the tallest building in Hollywood (the CNN tower).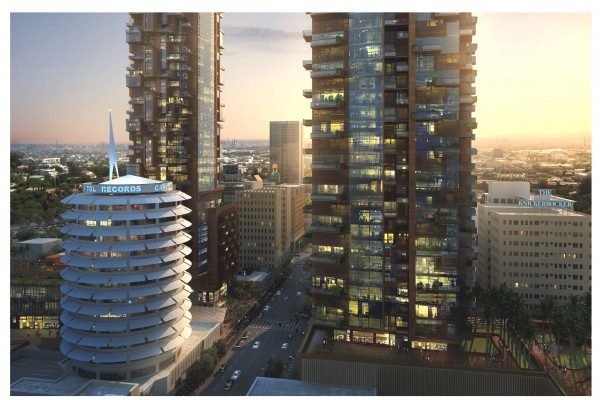 However, the final architectural plans for the Millennium Hollywood (by developers Millenium Partners and Argent Ventures) have not yet been approved. The latest progress in the Millennium Hollywood project is its recent approval by the city's planning department. Just a, "okay, we're interested, let's talk seriously about this."
The Millennium Hollywood project will be split between two parcels across the street from each other, along Vine between Yucca and Hollywood (almost 5 acres of land).
The two towers will be designed by Handel Architects, and the neighboring Capitol Records Tower and the Gogerty Building will be preserved with the expertise of architect Bill Roschen of Roschen Van Cleve Architects. The towers will "frame" the views of the Capitol Records tower. Millennium Partners insists that the project's primary design objectives will be to "preserve, complement and highlight the Capitol Records Building by creating extensive and inviting open spaces that will greatly enhance the pedestrian experience of the area and forever preserve the critical views of one of the 20th century's most recognized and beloved structures."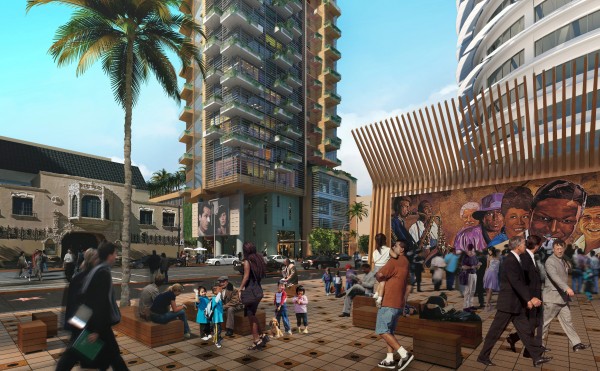 A more pedestrian-friendly experience in central Hollywood would be a much-needed improvement to not just the immediate area, but, with the Hollywood and Vine metro station just a few blocks away, to the progress of a more transit-oriented city at large. I love living in central Hollywood because I can walk to restaurants, bars, and shopping, and there are other people on the street doing the same thing. And then I can get to other parts of town without having to drive. Hollywood feels like a city, but just a hint, a feeling, a potential of a better, more metropolitan one, if only there were more people, more restaurants, more bars, more transit options, and more public space with benches upon which to sit.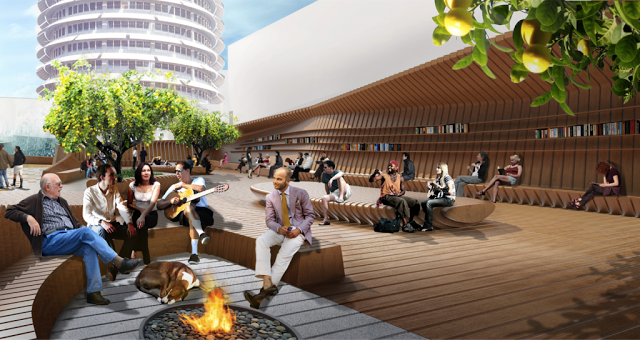 "The goal of all of our projects is to attract people who embrace an urban lifestyle. They want to be able to walk out their door, walk down the street, go to a restaurant, go to the movies, come home, ride the elevator, look at the Hollywood Sign from their apartment, go to sleep," says Philip Aarons, the Founding Partner of Millennium Partners.
Roschen and Handel Architects are collaborating with James Corner Field Operations, landscape architects of New York's High Line (a bastion of successful urban public development), on the design of the Millenium's open space, comprised of street-level plazas enhanced with retail and shopping.
Again, all of this sounds wonderful, aside from the hideous tower renders. I will hope that project can be kept to scale with the current Hollywood skyline, so as to provide housing without adding significant congestion. (50 stories and nearly a thousand apartments and hotel rooms means twice as many thousands of cars – let's not forget, that even with a nearby metro station, this is still LA, and people need cars. You still can't get to Santa Monica from Hollywood without one, or without at least incurring a suicidal headache.) I will also hope that the Millennium Partners are sincere in and capable of providing the pedestrian-friendly experience to which they allude. Other developments have promised this, but have failed at delivering. Take, for example, California Plaza. It is nice when you're inside it, but it's above sidewalk level, so if you're walking down Grand or Olive Avenues, you have no idea that there's a large open space just up these stairs here or down these ones here or behind this building or this hotel. The same goes for the Dorothy Chandler Pavilion. Lovely on the inside, but from sidewalk level, it's a big secret. By contrast, Lincoln Center in New York City can't be missed by a passer-by. You see the plaza from Broadway, you see the lights inside the Metropolitan Opera house and the intermission audiences gathering outside, you see the fountain dancing, and the New York ballet students lounging around it and you want to go in and discover it for yourself.
Due to an unchecked scale, and previous LA mishaps in providing a pedestrian-friendly experience (my eyes ache from the rolling they've been doing each time I hear a proponent mention Hollywood/Highland as an example of good mixed-use development) , I am skeptical of the Millennium Hollywood.
I would love to hear your thoughts. What do you think of the plans? What would you like to see developed on these parcels of parking lot? What do you think would best help usher Hollywood into being a more urban center? Do you care for it to be such?
Sound off, please.
---