The City Prolific: Weekend Events October 5 – 6

As minor signs of fall tease us Angelenos with the notion of seasons, my posting of The City Prolific will become less frequent. Festival season has wound down, the outdoor screenings are over, and after Halloween, there just won't be as much going on. This weekend, though, you've got to get out this weekend.
SATURDAY, OCTOBER 5 
Eagle Rock Music Festival



I've gone to the event every year since I've lived here. The first year I attended, in 2008, I fell in love with its community feel. I was new to LA, and was amazed at how diverse it is, and the festival reflected this diversity – children and adults of all demographics took to Colorado blvd to dance, rock out, revel at the art and performances, and eat of the food trucks and festival food. Over the years, the festival has become much more crowded, the acts booked bigger and in more demand, and some of the original community spirit has gotten a little stifled. It's also no longer free – it's now $10. Despite these changes, it is still a great time, and the entry fee goes toward the Eagle Rock Center for the Arts, so it's money well spent.
$10
4:00pm – 10:00pm
Colorado Blvd. between Argus Dr. and Eagle Rock Blvd.
Free parking and shuttle service is available at
Eagle Rock Plaza
2700 Colorado Blvd
Los Angeles, CA 90041
Aventine Hollywood presents a Kick-Off to Art Loves Fashion Alley Event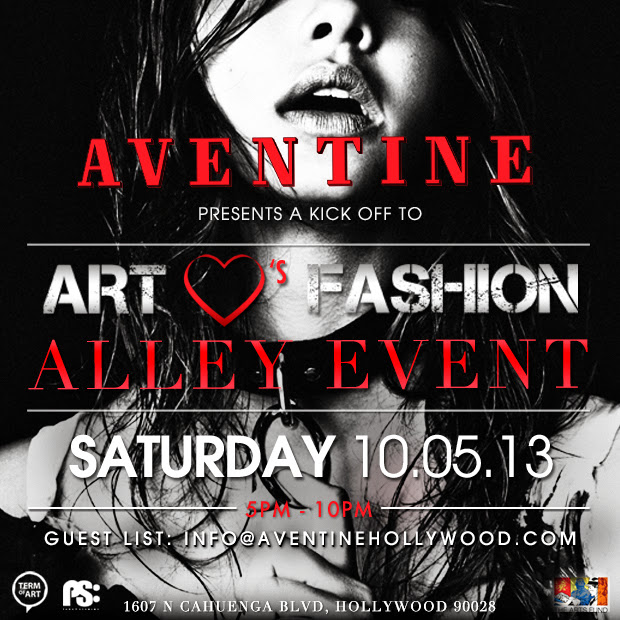 Aventine Hollywood, you know that club that used to be the Spot, and the restaurant next door that has the really pretty back patio and a great happy hour? Well, they host cool events, sometimes.  Tonight they present a hosted bar and free head shots (curious to see if this is liquor or an actor's marketing tool) from 5-6 PM, a fashion show starting at 6 PM, an art installation throughout Aventine and the alley behind, live DJs, two outside bars, food, gift bags and more.
5:00pm – 10:00pm
Aventine Hollywood Alley
1607 N. Cahuenga Blvd
Hollywood, CA 90028
RSVP here: info@aventinehollywood.com
Zombie Fashion Show and Creature Art Exhibit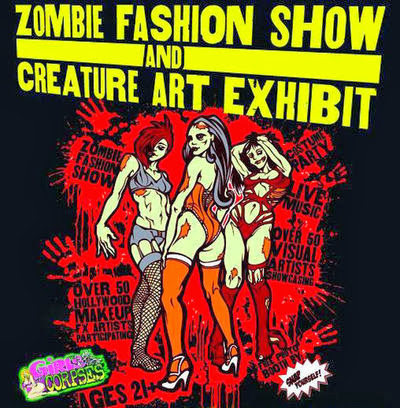 Fans of gorey makeup fx rejoice. The Zombie Fashion Show and Creature Art Exhibit hits Lot 613 tonight. Dead models will strut their decaying stuff down the runway. Featuring fifty makeup artists will display their creepy talents, while up to 150 monster mash-ups will be on display as part of the evening's art show.  Live music and a performance from contortionist  Dangerous D will take the stage. Costumes encouraged. Fake blood required.
$10
8:00pm
Lot 613
613 Imperial St.
Downtown
SUNDAY, OCTOBER 6 
CicLAvia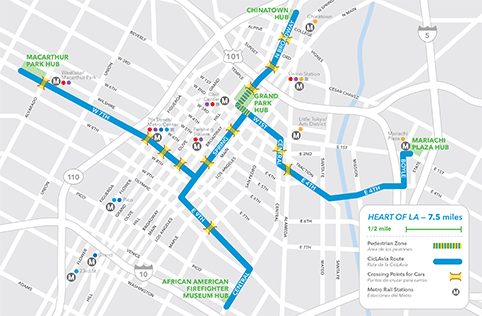 CicLAvia heads back to where it all started, taking over the streets of Downtown. Grab your bike, your skateboard, your longboard, or your sneaks, and experience the city without cars. It's an incredible time.
Free
9:00am – 4:00pm
Start out at one of five hubs:
MacArthur Park
Chinatown
Mariachi Plaza
Grand Park
African American Firefighter Museum
Check out the map for details.
ONGOING

Los Angeles Haunted Hayride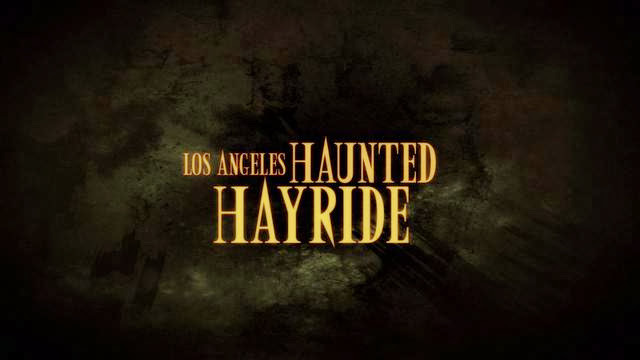 I usually post events $10 and under, but this one deserves a mention despite it's $30 ticket price.  The fifth annual Los Angeles Haunted Hayride opened last night.  Held at the Old Zoo in Griffith Park (yes, there's an old zoo – eerie ruins of concrete animal enclosures and abandoned cages), this year's hayride will see the return of its infamous 'The "In-Between" Dark Maze' and "Purgatory" sideshow attractions, as well as the new "Carving Shack" (guests can pick out a pumpkin and wield some carving tools) and "Death Row" (an interactive room focused on historical death devices), in addition to its historical 'scary-go-round,' freak and magic shows, demonic stilt walkers, and more.
$30 – $55
Griffith Park
4730 Crystal Springs Road
---