How to Hike the Zion Narrows, a Guide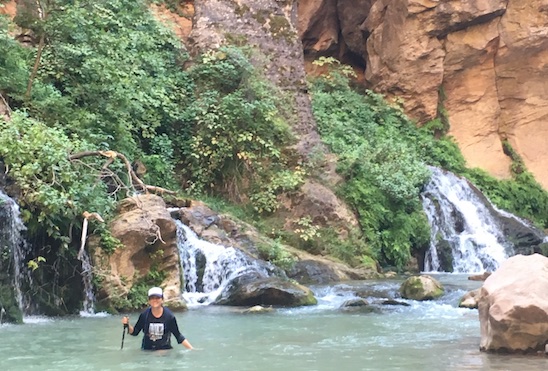 Now that you've decided to hike the Narrows (if you haven't, read my first post here and allow me to convince you), you'll need to start planning. In order to enjoy yourself, you'll need to be thoroughly prepared. I hope this guide helps you pull everything together, and embark on this spectacular hike.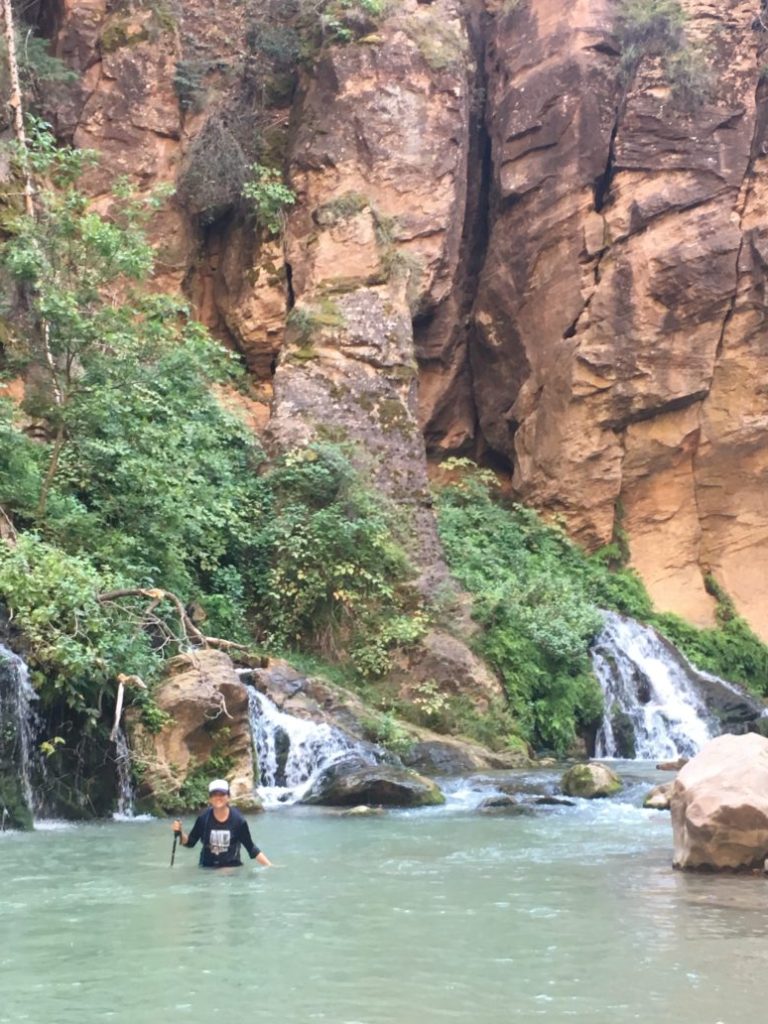 Time of Year:

In the late spring and summer temperatures are at their warmest and the water level at its lowest. The snowmelt of winter and early spring brings cold temperatures and high water levels. Flash floods are always possible.

Permits:
All hikers of the Zion Narrows "top-down" hike (the 16-mile hike, rather than the heavily trafficked "bottom-up" hike that most tourists do) must obtain a Zion wilderness permit, whether they are backpacking or day hiking.
Reservations for a permit can be made online up to three months in advance. The physical permit, which must be carried on the hike, can be picked up at the Zion Canyon Visitors Center permit office. At that time, a park ranger will go over the rules and regulations with you. The permit office opens at 7:00am during summer months.
Campsites are available for those who wish to backpack and camp along the way. The straight-through hike will take at least 12 hours. Camping is a great option if you want to be able to stop after six hours, swim in the other-worldy surroundings, take pictures from atop the spring, or jump off rocks into luscious jade-green water (jumping is not officially allowed, but how could you resist).
Campsites can also reserved via the Zion Wilderness Reservations site.
Reservations are $5, and permits, which are good for your whole group, are $15. Both are required.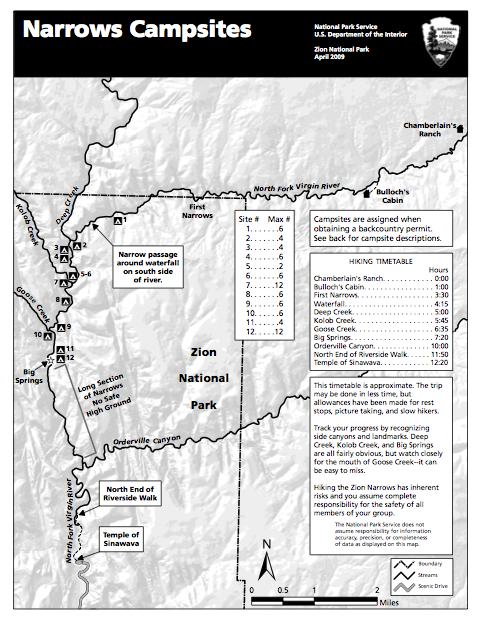 Gear:
1) Daypack or Backpack
For the day hike, you'll need a sturdy and comfortable backpack with a waist belt to distribute weight evenly. Do not attempt this hike in a standard book bag/backpack. Invest in a proper hiking pack. Your body will thank you.
If you're camping, you'll need a good backpacking pack.
2) Sealable trash bags
All waste must be packed out of the canyon. Gallon-sized freezer bags will do the trick. Load anything you want to stay dry inside a couple of sealable bags. As I said in Part I, I had to swim at points. My backpack got wet, but everything inside stayed dry.
3) Smart Phone case
I knew I'd want to take a million photos, and as I'm currently without a D-SLR, my phone would be my only means. I bought at $15 E-Merse case from REI. It hung around my neck on a lanyard, and allowed my to take photos without having to remove the phone from case.
4) Human Waste Bags
Again, ALL waste must be carried out. That includes toilet paper and human waste. "Pee in the river, pack everything else out." That's what the ranger told me. And then she made me buy a sanitary human waste disposal bag called "Toilet in a Bag."
5) Shoes
Rent the shoes! Various outfitters in the area rent sturdy water shoes for about $20/day. You'll spend the entire hike balancing on rocks and slippery boulders. You'll need great tread and grip.
Rent the socks! The same outfitters also rent neoprene water socks, basically wet suits for your feet. They'll keep your feet warm and dry, and after hiking for longer than you've ever hiked, in the weirdest, wettest conditions you've ever hiked, you'l remark at how comfortable your feet are.
DON'T wear hiking boots. They'll get water logged and heavy.
DON'T wear Keens. You'll be picking rocks out from between your toes all day, and you'll get cold.
6) Walking Sticks / Trekking Poles
You're going to be crossing a steadily-flowing river over and over and over again. You'll need the balance and stability of four limbs, as well as a guide to test the depth of the water. Take two trekking poles.
7) Food and Water
Bring all of the water you plan to drink, as well as food. My friend and I carried 100 liters between us, though we didn't finish it. You'll need a Camelbak or bladder. Avoid the unnecessary weight of bottles.
For food, bring easy-to-eat fuel. We packed sausage, dried salmon, trail mix, granola bars, peanut butter-filled pretzels, Babybel cheeses, and started our morning with some hard boiled eggs. We had food left over (though not much).
What to wear:
I bought a long-sleeve performance shirt, and was so grateful for it. Lightweight, it kept me protected from the sun on the early part of the hike, and kept me warm when I was soaking wet. It dried quickly, too, which was nice when the hike was over.
When you rent shoes, socks and poles, you can also rent dry pants, if you so wish. Most of the local outfitters have rental package options with all of the above.
Under the performance shirt, I wore a rayon-blend tank top, and my bikini top. (I mean, I thought I might swim.)
On the bottom, I wore my bikini bottoms, which turned out to be a good choice (they dry quickly), and some short cotton shorts. I hiked on a hot day so hoped I'd stay warm even if those got wet (cotton does not usually dry quickly).
Everything worked great. I never once felt cold. Honestly. I credit the performance shirt.
Transportation:
If you're prepared, the hike itself is no biggy, besides being the most incredible thing you may ever see. But transportation can be a beast.
The trailhead is at Chamberlain's Ranch. DO NOT plug that into your GPS, though. On Google Maps, it's called Zion Narrows Upper Trailhead. (Plug "Chamberlain's Ranch" in there, and you'll wind up in a town called Glendale.)
The trailhead is about 30 miles from where you'll end up after the hike, but due to the windy canyon roads and unimproved dirt roads further up, it takes an hour and a half to drive that distance.
For that reason, you'll have to be strategic about where you keep your car, and how you get to the trailhead in the early morning, and how you'll get back to your car.
The best option is to charter a private shuttle service to pick you up at your lodging in the morning, and drive you to the trailhead, and then to pick you up at hike's end and drive you back to your lodging. You'll finish the hike at the Temple of Sinawava, a viewing destination within Zion National Park. From there, you'll catch a free Zion shuttle to get to wherever your private shuttle is supposed to pick you up.
Many of the outfitters in the area offer shuttles, as do surrounding lodgings. The cost will be somewhere between $80 and $120.
(Unfortunately, Zion Ponderosa, the resort I camped in, did not inform my friend and I of the option to be picked up at our lodging in the morning. After consulting with both a desk attendant and the recreation manager there, we believed that our only options involved either driving ourselves either to the trailhead, or to the bottom of the park to catch a shuttle to the trailhead, 1.5 hours away. We decided upon the former option, driving ourselves to the trailhead in the morning. When the shuttle picked us up that night and drove us back to to our car at the trailhead, we passed our lodging on the way, and realized we'd added an unnecessary hour-and-a-half to our trip (as we'd have to drive ourselves all the way back down to our lodging, along Southern Utah's worst dirt road). Do not let this happen to you!
Let me clarify, in steps. If you're staying at a lodge or resort in the Zion area:
 Ask if the resort offers a shuttle to the Zion Narrows upper trailhead.
Have them pick you up from your lodging early in the morning, around 6:00am (so that you're beginning the hike by 7:00am, as you're going to be hiking for at least 12 hours).
Arrange for them to pick you up in Zion National Park that evening (approximately 13 or more hours after you plan to start the hike), and listen closely to which shuttle stop they plan to pick you up at.
Do the hike.
When you finish the hike, take the free Zion National Park shuttle to the stop you and the private shuttle company agreed upon.
Ride it to your bed. You deserve to rest.
---